WELCOME

"Stroke code. Call neurology. Notify radiology. Patient should be in the CT scanner in 15 minutes. If there is no blood on his head CT,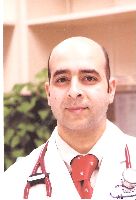 Haitham M. Hussein, MD, MSc
Section Editor
the patient may get tPA."
"This is not just chronic headache. There is evidence of neurocysticercosis on the head CT. Let's treat that!"
"Could this patient with complex partial seizures benefit from epilepsy surgery? Sure. Look at this MRI… there is unilateral mesial temporal sclerosis. Let's do epilepsy surgery workup."
"The MRI shows epidural mass compressing the cord. Call neurosurgery now. Tell them it's an emergency."
"This is interesting! DWI restriction in the occipital and parietal cortex only. Could this be an early case of Heidenhain variant CJD?"
Neuroimaging has become such an integral part of our daily practice in neurological specialties. Trainees of these specialties need to be well educated and trained in this area. But it's a moving target. Advances are being made everyday. Numerous articles in this field are published every month. It is almost impossible for one trainee to see every case or learn everything about radiological characteristics of all neurological diseases during the training years, especially that every single trainee start from very little knowledge base. The wheel should not be reinvented by every individual trainee.
The Residents and Fellows (RF) Section – Journal of Neuroimaging, is an open access online educational resource for trainees. It is intended to be a venue for sharing experience that will have a practical meaningful effect on learning and patient care, not another periodical where an interesting but rare case reports are published. The whole section is written and edited by residents and fellows. If you come across an MRI that taught you something or a case that was misdiagnosed until a CT scan clarified the diagnosis, then you have a material that is publishable at the RF section. The next resident or fellow to see a similar case will learn from your experience and serve the patient better with the knowledge that you shared with us.
This online educational resource is made possible by the American Society of Neuroimaging.
Hello and welcome to the Residents and Fellows Section. Looking forward to receiving your contributions and feedback.
LINKS
About the Resident/Fellow Section