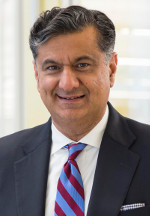 Rohit (Rob) Bakshi, MD, MA
Board Member & Editor in Chief
Rohit Bakshi, M.D., M.A., is the Jack, Sadie and David Breakstone Professor of Neurology and Radiology at Harvard Medical School. He is the Director of the Laboratory for Neuroimaging Research and a Senior Neurologist at the Brigham Multiple Sclerosis Center, Ann Romney Center for Neurologic Diseases, Brigham and Women's Hospital, Mass General Brigham. He has built a research program involving quantitative MRI in multiple sclerosis.
He is a Buffalo native, graduate of Cornell University, and fraternity brother in the Iota Chapter of Alpha Sigma Phi. As an Alpha Omega Alpha scholar, he completed a one-year neuroscience research fellowship at the University of California, San Francisco. He served a one-year internship at the Massachusetts General Hospital/Harvard Medical School followed by neurology residency at the University of California, Los Angeles. He then completed a neuroimaging fellowship at the Dent Neurologic Institute.
He has served as Chair of the Neuroimaging Section of the American Academy of Neurology and President of the American Society of Neuroimaging. In 2010, he received an honorary Master of Arts degree from Harvard University. In 2013, he was named to an Endowed Chair at Harvard Medical School. In 2015, he began his appointment as Editor-in-chief of the Journal of Neuroimaging.
Dr. Bakshi has delivered more than 250 invited academic lectures and authored more than 250 peer-reviewed articles.