A Tribute to Michael Sloan, MD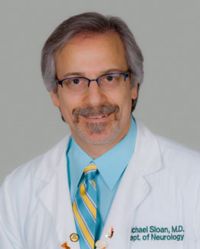 Michael Sloan, MD, Professor of Neurology and Director of Vascular Neurology at the University of South Florida College of Medicine, died Sept. 9, 2011, at the age of 57. Dr. Sloan earned his medical degree from Wayne State University in Detroit, MI. He completed an internal medicine residency at Berkshire Medical Center, a neurology residency at Tufts University/New England Medical Center, and a fellowship in vascular neurology at the University of Virginia. He began his academic career at the University of Maryland, where he directed the stroke program and the neurological intensive care Unit, before moving to the Carolinas Medical Center and, ultimately, to the University of South Florida College of Medicine as Professor of Neurology, Neurosurgery and Epidemiology.

Dr. Sloan was a major authority in stroke, who made substantial contributions to the advances in the field over the past 20 years. He served as chair of the National Stroke Study Group for the American Heart Association (AHA), chair of the Stroke Registry for the state of Florida and was a member of the Board of Directors for the American Society of Neuroimaging (and a frequent contributor to that society's journal, the Journal of Neuroimaging) among many other national and international leadership positions. He was honored by colleagues with many of the highest awards in his field, including the 2010 AHA Stroke Council Award. Also renowned as a clinician, he was named of one the Best Doctors in America each year since 2003, and was a fellow of the American Academy of Neurology, the American College of Cardiology, the Royal Society of Medicine and a member of the American Heart Association's Stroke Council.

The stroke program he led at Tampa General Hospital consistently earned the Gold Seal of Approval™ for health care quality – a disease-specific certification bestowed by the Joint Commission, the nation's largest health care accreditation organization. He was known as one of the hardest working academic physicians at USF, in part because of the tremendous time he gave to the study and management of his patients and the countless hours he spent on the wards each week to insure the very highest level of stroke care for those in need. He is deeply missed not only by his family and many friends, patients and colleagues at USF, but also by his wide circle of peers in the neurological community around the world.