---


A JOINT CONFERENCE ON NEUROINNOVATION
To celebrate its 45th Annual Meeting, The American Society of Neuroimaging is collaborating with NeuroNet Pro to put on a stimulating and collegial meeting unlike any other meeting you've been to! The conference will integrate lectures on Neuroimaging, precision diagnostics and image guided intervention with topics such as neuroinformatics, artificial intelligence, remote patient monitoring, workflow automation, eConsults and other advances in technologies that support more efficient practices, earlier diagnoses, and decision support. The venue will feature a unique Innovations Hall where you will be able to see, touch and discuss technology and operational advances. On-demand lectures and posters will supplement the on-site program to extend content and access, while leveraging the in-person venue to build collegial relationships and facilitate deeper discussions.
There will be approximately 20 credits of Continuing Education (CE) at this years 2022 Annual Meeting. Specific CE credits will be broken down in the final version of the schedule.
| | |
| --- | --- |
| | |
---
ASN - NEURONET PRO JOINT ANNUAL MEETING EVALUATION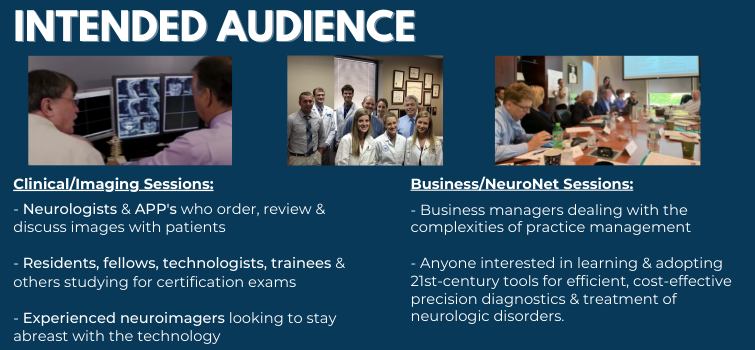 ---
---

THANK YOU SPONSORS!
---
COVID-19 PROTOCOL
COVID-19 Expectations
The ASN-NeuroNet Pro Joint Annual Meeting requires all participants to be vaccinated against COVID-19. Please have your proof of vaccination and ID available upon registration. Masks and hand sanitizer will also be provided in all registration packets and we have implemented additional safety measures throughout the conference. We will continue to monitor and follow medical guidelines established by the CDC and local authorities.
The ASN-NeuroNet Pro Joint Annual Meeting requires all participants to be vaccinated against COVID-19. Mask requirements will be determined as we get closer to the meeting.
CANCELLATION INFORMATION
Hotel Cancellation: The Scott Resort & Conference Center's cancellation policy is 72-hours prior to arrival. Guests who notify the hotel within the cancellation window or do not arrive on the scheduled arrival date will be charged one night's room rate with tax.
Meeting Cancellation: Registration cancellations prior to November 1, 2021 will be given a full refund of their registration fees. Cancellations between December 1 and December 31, 2021 will receive a 50% refund. No refunds will be given after December 31, 2021. In the event the in-person meeting is canceled due to COVID, ASN will hold its meeting virtually and the registration will transfer to allow the person to attend the virtual meeting.
---

QUESTIONS
If you have any questions relating to the ASN-NeuroNet Pro 2022 Annual Meeting, please contact Harrison Redepenning at info@asnweb.org (952) 545-6291 or Maria Caserta at mcaserta@dentinstitute.com or (716) 310-1684